Well here we are in the dead of winter on Maryland's Eastern Shore (Bishopville MD to be exact) and not finding much to do outdoors thoughts seem to drift ahead toward spring. Spring brings flowers, vegetable gardens and of course weeds. But in my case the big attraction is springtime food cravings, right alongside summer, fall and winter.
One of the foremost delicacies characteristic of spring served around this house is Pasta Primavera, and although the name is bona fide Italian, the dish is strictly American. It's one of the dozens of pasta selections that may have originated in Italy in some primal state, reinvented by U.S. chefs, and eventually joined the pantheon of classic American dishes, along with spaghetti and meatballs, apple pie and grits.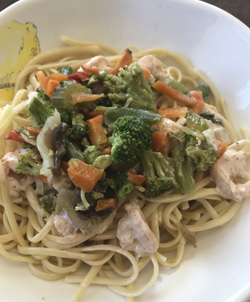 Pasta Primavera is multi-functional and highly adaptable. It can be served hot, warm or cold (but not frozen). It can be served for breakfast, lunch, dinner and anytime in between as a snack or hors d'oeuvre. It can stand by itself as a complete meal, containing as it does all the obligatory food groups (assuming you consider tomato a fruit and not a vegetable).
It is among the most popular offerings at millions of stand-up buffet events.
The recipe below is somewhat unique inasmuch as it features Maryland Eastern Shore flavored shrimp as the main event. Just so you know Eastern Shore flavor means Old Bay seasoning, a condiment plastered on every dish imaginable, including strawberry shortcake for all I know.
Fortunately in this version the Old Bay is used sparingly to yield an ever-so-subtle hint. But if you're an Eastern Shore native feel free to dump it on!
Credit for this recipe goes to my good friend and companion Vera, a native of the Eastern Shore and devotee of Old Bay. We thought of naming the dish "Vera's Primavera" but it sounded it way too pretentious. Beside that, Vera is not her real name.
Finally, the pasta of choice here is linguine. But first the spelling lesson. It's linguine with an "e" not linguini, linguine being the plural of linguina. In any case we eschew the more prevalent but utterly boring rotini or penne commonly associated with this dish, although these forms are more amenable to stand-up cocktail party dining.
Prep time for this dish is around 45 minutes not including defrost time.
Pasta Primavera
for 4-5 persons
1 lb. shrimp (large, not jumbo)
1/2 cup mayonnaise
1 rib celery finely sliced crosswise
2 tbsp. capers
1 package frozen stir-fry vegetables
1/2 cup red wine vinegar or to taste
2-3 tbsp. extra virgin olive oil
1 tsp. Old Bay seasoning
1 tbsp. worcestershire sauce
2 tsp. Tabasco
1/2 cup fresh chopped basil
1 lb. linguine
salt and freshly ground black pepper to taste
Preparation
First defrost the shrimp if frozen and remove shells. Boil for 5 minutes or until they curl up and turn pink. Drain and set aside. Defrost the frozen vegetables and let excess liquid drain off on paper towels. Set aside. Then cook up the linguine in 1 gallon boiling salted water according to package directions. In the meantime add all remaining ingredients to a serving bowl and toss to combine. Add the shrimp. When linguine are done drain and add to the serving bowl tossing to combine with all the other ingredients. Add salt and pepper (remember there is Tabasco in the recipe as well so be careful). Refrigerate until cooled.