Had a first-time experience recently sloshing down the Rhine River from Basel Switzerland to Amsterdam aboard the Avalon Waterways "Affinity" pictured above.  Affinity for what is not exactly defined.
They say the Rhine River is unique in that it flows from south to north.  Looking at the map it's no surprise for a river that starts up in the Swiss Alps at 5000 or so feet above sea level and winds up in Holland at zero feet.  Law of gravity no?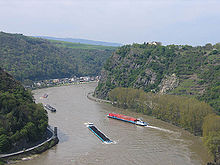 The Rhine is a very beautiful river – in certain places.  After passing by any number of oil pipeline terminals and nuclear power plants we entered the famous Gorge area populated by lofty castles once owned by royals of every stripe.  Germany after all was once the home of the Holy Roman Empire,  a political institution that was neither holy nor Roman, but obviously employed an expert public relations team throughout its history.
My mission was not only to see as many of the ancient towns of the Rhineland as possible in one fell swoop but also sample local cuisine whenever the opportunity presented itself.  This turned out to be difficult since these cruise lines do everything in their power to keep you tethered to their kitchen fare and cocktail bars.  There were few chances to spend  time on shore hunting down a good spot.  But we managed a couple simply by breaking away from some of the guided tours.
So first let me dispense with the ship's galley by saying simply that if you like cafeteria food you will love the the river cruise experience.  Several selections were great, including some of the daily menu specials served tableside,  but most were about as memorable as a dental visit.
The itinerary carried us from Basel,  Switzerland to Amsterdam with stops in Strasbourg,  Heidelberg, Cologne and a few others.  Strasbourg being the only stop in France.
Looking at the world as I do through culinary lenses I was determined to taste as many local goodies as possible and forego the on-board selections laid out on the Affinity's pretentiously unremarkable buffet.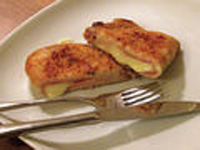 The one item my travel buddy and longtime friend Bob and I quickly adopted as a favorite was the schnitzel, otherwise known as cutlets in the U.S., escallopes France and cotollette in Italy.
One sidewalk restaurant we stumbled upon in Heidelberg advertised 120-odd varieties of schnitzel.  We picked two at random and were sold on this specialty instantly.  Best lunch in the entire trip hands down.
So now schnitzel becomes a new entry in my motley,  mostly Italian culinary pantheon, demanding appropriate research and experimentation in my kitchen.
Herewith the research results:
1. History assigns the origin of this delicacy to Germany and Austria-Hungary,  though no one seems to know the identity of the original schnitzel pioneer,  probably a roadside tavern chef named Friedrich (Fred)  Schnitzel.
2. In Germany schnitzel is generally made with pork slices pounded thin,  breaded in the usual fashion and fried.  The Austrian sub-variety achieving world-wide fame is the Wienerschnitzel made with veal.
3.  Two highly popular non-Germanic versions are the French veal Cordon Bleu and the Italian Cotelette alla Milanese.  Milan was once ruled by the Austro-Hungarian Empire and so of course the Milanese cutlets are made with veal.  As for France's use of veal I have no explanation despite hours of research. The country shares a Rhine river border with Germany in the Strasbourg area so one would assume pork would be the more prevalent choice.
In any case the mission I set out to accomplish on returning from the trip is to reproduce the classic pork schnitzel, leaving the "Wiener" variety for another occasion. Naturally to do so I consulted the usual doubtful authorities.  Not being capable of reading or speaking German I stuck with the U.S. sources like Food Network and Allrecipes.
I decided  TV chef Tyler Florence seems to follow the typical consensus recipe for pork  schnitzel, reproduced here with my variations duly noted:
Tyler Florence's Schnitzel
For 4 persons
4 boneless pork loin chops (about 5 to 6 ounces each)
1 1/2 cups all-purpose flour
Kosher salt and freshly ground black pepper
2 large eggs
1/2 cup milk
4 cups plain bread crumbs
2 tablespoons extra-virgin olive oil
2 tablespoons butter
1 sprig thyme
Lemon wedges
Preparation
Begin by placing each chop between 2 sheets of plastic wrap and gently pounding them out with the flat side of a meat tenderizer until they are less than 1/4-inch thick.  Unless cooked medium rare pork turns out rather tough if not pounded very thinly.  Tyler says 1/4 inch but I say bring it down to 3/16 inch exactly.
Tyler says put the flour in a shallow dish and season with salt and pepper. Whisk the eggs and milk in another shallow dish and season with salt and pepper. Put the bread crumbs in a third dish and again season with salt and pepper.  I say simply sprinkle salt and pepper generously on both sides of the pork slices.  One step instead of three.  Lightly dredge each piece of pork in flour, then in the egg and finally into the bread crumbs, pressing the bread crumbs onto the pork gently so they have a nice even coating.
Lay the breaded pork cutlets in a single layer on a plate lined with parchment and refrigerate, uncovered, for 10 to 12 minutes to allow the coating to dry out a little and adhere to the pork.
Heat oil and butter in large nonstick skillet over medium-high heat. Add the thyme sprig and let it fry for about 1 minute to infuse the oil. Remove the thyme sprig and reserve. Gently lay the cutlets into the pan and cook until golden brown and crispy, about 3 minutes per side. Remove to paper towels to drain. Season with salt and transfer to a serving platter while still hot. Garnish with lemon wedges and the fried thyme sprig before serving.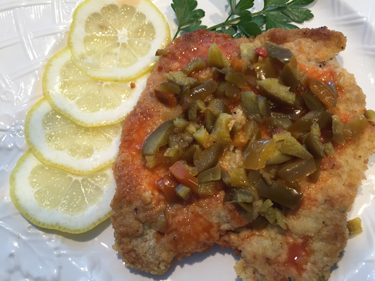 My variation shown here has a topping of pickled peppers,  the same kind you find often on Italian sub sandwiches.  Other toppings or accompaniments are mushrooms, mixed sautéed diced vegetables,  red wine sauce,  béchamel,  olives,  oven-roasted potatoes and,  who knows,  maybe all of the above.