At every opportunity I like to remind my three followers that a huge chunk of French cuisine traces its origin to itinerant European chefs of ages past, all of whom hailed from Italy. In the case of the famous French "Bouillabaisse" fish stew however the story is slightly different.
Bouillabaisse is a dish of the Mediterranean Sea to be sure. The interesting fact is that the regions where this concoction is most frequently presented, namely the coastal south of France, were actually once part and parcel of Northern Italy, or that portion of it ruled by the House of Savoy from Piedmont. This was at a time when cooking started to rise up above a primitive daily chore to the beginnings of an art form.
The town of Nice was actually known as Nizza, and Monte Carlo remains a place that never lost its Italian moniker.
So far so good, but the scholars seem to agree that the original "bouillabaisse" comes from Marseilles in France and from there back to a colony of ancient Greeks who founded the city. The fishermen among them would sell the days' best catch to the markets ashore and use the less desirable specimens for their own dinner. Boiling trash fish in sea water and adding a variety of spices and flavors resulted in a prototype of our subject dish. Yum.
But wait! Ancient Roman literature speaks of certain mythological figures, Venus and Vulcan, who entertained themselves at dinner with what can only be called a prototype of the prototype. A broth consisting of boiled mixed fish and flavors galore.
Consequently assigning the origin of richly flavored fish stews to the shared gastronomic inventiveness of the Greeks and Romans should withstand scrutiny even from the most chauvinistic French chefs. To be technically precise one should always consider bouillabaisse as "zuppa di pesce," in Italian, or its equivalent in the Greek language, even if you happen to be French.
This is not to say that Bouillabaisse and Zuppa di Pesce are identical dishes where only the name has changed to protect the innocent. However it is true that both share several common ingredients not the least of which are the varieties of seafood contained in them. That is because the fish don't know whether they're swimming in Italian or French territorial waters.
Giving in to my constant bad habit of researching the most irrelevant of details I consulted what I think are reliable French and Italian web sites to try to identify the distinctiveness of each country's recipes. As a result I have endeavored to set out a sort of all inclusive recipe naming ingredients found often in the French versions as well as those found more prevalently in the Italian.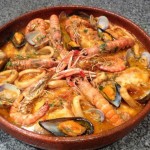 In so doing I don't mean to ignore the equally famous Spanish "Zarzuela de Pescado" however the only difference between Spain and Italy in this corner of the food world is the inclusion in the spanish version of the "picada" garnish. Picada is a ground up mixture of nuts, parsley, bread crumbs and garlic and must never be confused with the Italian veal "piccata." There will be a quiz on this.
Skipping the details the main difference between the Italian and French versions is the absence of saffron in the Italian and the absence of wine in the French. Also the species of fish caught in local waters differ to some extent but I maintain the differences in species chosen will not affect the end result in the slightest. (I can visualize French chefs wringing their hands at that remark and throwing darts at my picture).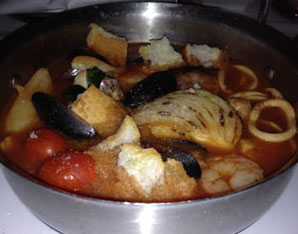 This photo shows a variation served by the Executive Chef of "Le Bistro" a specialty French-style restaurant located on board the mega-cruise ship Norwegian Breakaway. I found that version to be slightly understated rather than richly flavored, but at the same time a most elegant and delectable representation of the classic (to the extent I qualify as a judge!) Note the roasted fennel bulb among all the other goodies.
So getting around to the recipe:
Bouillabaisse, i.e. Zuppa di Pesce
For 4-5 persons
Ingredients:
To recreate a French original use 1/2 pound or slightly less of each of the fresh fish listed below. To recreate the typical Italian Zuppa di Pesce simply proceed to the nearest Safeway and pick up whatever you think looks good at the fish counter. Shrimp, clams, calamari and mussels are also welcome substitutes for, or additons to the finned species.
The French list of fishes:
monkfish (lotte in French)
scorpion fish (rascasse)
conger eel (conger – you can include this species if you want but not me)
john dory (St. Pierre)
poisonous smelts (the spines of this French fish called "vives" are in fact poisonous)
sea robin (grondin rouge -a true trash fish if there ever was one)
prawns or large shrimp (langoustines)
5 ripe tomatoes peeled seeded and finely diced (or 4 cups of your best home-made marinara sauce)
2 medium onions (one diced the other quartered)
1 leek (white part only) thinly sliced crosswise
1/2 fennel bulb split into 2 quarters
1 head garlic peeled and roughly chopped
1 cup chopped flat leaf parsley
3 cups or so fish stock or water (I use vegetable bouillon in the absence of a home-made fish stock)
1 teaspoon saffron threads (omit the saffron for the Italian version, thus saving a ton of money on ingredients)
1 tbsp. chopped fresh thyme
1 bay leaf
3/4 cup olive oil
1 tsp. Kosher salt
Ground black pepper to taste
1 tbsp. orange zest (omit this for the Italian version but maybe substitute lemon zest??)
1/2 bottle good Italian white wine (for the Italian version, thus rendering a dish far more memorable than the French)
Preparation:
1. Dice the seafood into 1 inch chunks and set aside in the refrigerator.
2. Start with a mirepoix: Heat the olive oil in a saute' pan. Add the diced onion, the onion quarters, garlic, fennel and leek and heat over medium for 8 minutes or so until well softened but not browned. Add the white wine (for the Italian version), bay leaf, salt, pepper, parsley, lemon or orange zest and thyme and allow to reduce slightly, about 6 minutes. Transfer to a stock pot.
3. Add the tomatoes (or marinara sauce), saffron (for the French version) and water (or fish stock if you have any, or vegetable bouillon).
4. Once the mixture starts simmering add the seafood. Do not boil! Remove any scum that may appear and continue simmering until all seafood is opaque. Some French and Italian recipes call for removing the solids and straining the broth but I don't think it necessary. That should do it.
Don't forget if you're using shellfish the items need to be cooked separately or at least in timed sequence. Clams first, then mussels, shrimp and calamari in that order. Many recipes out there call for everything to be dumped into the broth at once. Do that and be sorry.
Fish Stock: As you may have guessed the above is the short cut method. The traditional recipes call for creating your own fish stock before doing anything else, simmering for an hour or more the bones and remnants of fileted fish in 3 or 4 quarts of water, adding onion wedges, celery leaves, peppercorns, a few coriander seeds, fennel bulb, thyme, parsley and assorted other flavorings (e.g. tarragon). I recently used a rockfish carcass with pretty good results. The way around this tedious step is to use a commercial fish bouillon if you can find it (some markets do carry it in the cube or envelope form) instead of plain water or vegetable bouillon.
Also, the French like to include a "rouille" that you drop on top of the serving along with garlic croutons. The rouille consists of a puree of garlic, roast red pepper, salt and olive oil, and sometimes egg yolk, to form a mayonnaise of sorts. Go ahead and try that if you have time to kill before the guests arrive, which you probably don't. I wager the Italians would consider a rouille superfluous and highly damaging to the natural seafood flavors in the dish. Croutons are almost mandatory in France, and "crostini" are common in Italy, but try serving the dish over linguine instead which is my preference.
Annoying Post Script (for the francophiles): Check out this link for a discussion of Italian influence on French cuisine appearing some time ago in that impeccable and infallible source of knowledge – the New York Times.