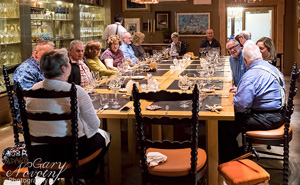 I recently signed on to a two-week tour of northern Italy together with a small group of  veteran travelers who have an appreciation for upscale dining and vintage wines. The organizer was Laurel Pine Living Luxury,  a name that immediately signals the high caliber of the trip's content.
I was out of my comfort zone for such a high-powered trip as this but was hoping to benefit from the group's  experience and maybe learn a few things in the process. 
The theme of this tour revolved around the fall truffle season in Italy and,  naturally,  truffles were served up in abundance,  if not to a fault.  But more importantly for me the tour involved visits to nine Michelin-starred restaurants in the area, and an equal number of outstanding establishments that fly just below the Michelin radar.  The many fine wine tastings were the added bonus attraction even if slightly less important to me than the food.
The tour was  set up to expose us to a selection of well known Italian kitchens from the regions of Umbria,  Emilia Romagna,  Liguria, Tuscany and Piedmont.  In the process we bussed  our way incessantly around off-the-path areas of the country that I have not seen before.  (Note: from now on if I were given a choice between a bus tour of any country versus a root canal,  I'll take the root canal.)
Our group is shown above.  I'm on the right sticking my head out obligingly for our photographer and fellow traveler who is duly represented by the empty chair in the foreground.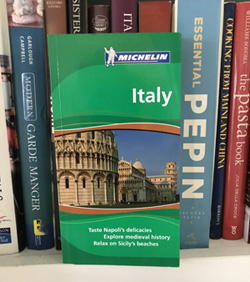 So did I say Michelin?  Right,  and I assume most foodies are familiar with the prestigious Michelin Guide published every year since the beginning of the 20th century.  Michelin,  in addition to making great automobile tires,  has an alter ego as the French equivalent of our AAA  travel guide. (Note: Michelin tires are nowhere near as good as Pirellis)
Now let's first set the stage .  I am somewhat of a stranger to the Michelin Guide,  as well as a strictly amateur food critic,  but as a certified food junkie I was not about to miss this special opportunity to engage in my favorite pastime – eating – while doing so in my favorite location,  Italy.
One caveat before getting into details:  I got the  impression that some establishments along the way were  catering to the home country of the diners.  That is to say,  knowing we yankees were on the  guest list that day,  they fashioned some of their menu  offerings to appeal to what they thought align with the preferences of an all-American guest table.  If so it was a huge mistake.
Now,  getting down to business,  back in 1936 Michelin published for the first time an explanation of what it takes to hang a star or two on your favorite restaurant's front door.  Skipping the details apparently some critics claim the criteria are more often than not applied in mysterious ways.  See for instance an article by food commentator Magnus Bennett posted on the BBC Scotland website, maintaining that wishing upon a Michelin star is a bit of a crap shoot.  OK,  so cutting to the chase he says the Michelin criteria are what they are,  except when they're not.  Got it.
With that in mind, as a result of this experience,  and adding in my 20 minutes of research,  I learned there really is no mystery.  Michelin star ratings are based more on presentation and artistry, and less on taste of the kind that knocks your socks off.  Except as noted below my socks stayed on the whole time on this trip,  but I certainly did appreciate the artistry.
I thought a good way to describe the experience would be to write down some features that I felt were more or less typical of the majority of the starred establishments we visited.   I  realize all observations in a field such as this are hopelessly subjective,  whether coming from me or Craig Claiborne himself.
Nonetheless here is  a short list.  Restaurant names are withheld to protect the guilty from unwelcome publicity.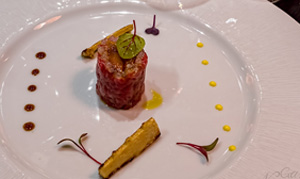 First, with some exceptions most all the restaurants served us "tasting menus" consisting of multiple sample sized portions.  They may or may not mirror what's shown on the menu that day.  I since learned that small portions are the norm in a host of Michelin-starred restaurants even when ordering from the regular menu.  Nevertheless If I were to repeat this type of culinary safari in the future I would skip the tastings and dive into the regular offerings.  Mark my word,  it's impossible to capture the real flavors of a dish that is consumed with one bite and a lick of the plate!  Multiply that by eight or ten for a typical tasting.  Next morning you will have no recollection whatsoever of the lunch or dinner the previous day.
Next, the chefs love to  utilize all sorts of exotic decor in the presentation,  among the most prevalent  and predictable of which are edible flowers or petals.  Taking that to the extreme is the plate shown here fearlessly presented as the chef's take on a Caesar salad,  believe it or not.  All flowers here folks.  What?  No anchovies?  The good news is that the all-flower presentation is great for dieters.  Only 1.5 calories per serving.   Added bonus – the photo is suitable for framing.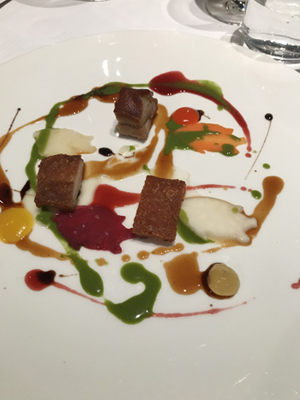 Sauces are served on the side,  which really means you will find dribbles of sauce either squirted around the dish Picasso style with the trusty ketchup squeeze bottle;  dropped around the plate in eyedropper patterns of tiny blobs; or often spread around with swishes from the back of a spoon.  One has to slosh the featured ingredient,  in this case three little bites of suckling pig squares, all around the dish to capture any sauce and by then the blobs and swishes have been hopelessly fused together to neutralize all flavors.  
Awarding prizes to  such edible graffiti only serves to encourage the practice.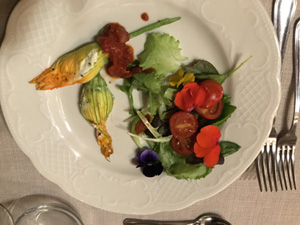 All restaurants, but mostly the Michelin crowd I suspect,  like to dress up a dish with tough-to-find ingredients or accents partly as a way of signaling to the diner that he or she should make no attempt to reproduce the item at home.  At left we have rather tiny zucchini flowers stuffed with ricotta cheese. The full-size normal flowers, twice as large, make a great dish most popular in Roman restaurants, Fior di Zucca. The tiny flowers shown here are only available if you grow them yourself in the back yard.  Note the red geranium petals to boost an otherwise dull presentation. (Photo by Gary Novotny)
The chefs have an obsessive leaning toward raw flesh,  whether sea or land-based.  One restaurant proudly served up a tasting of raw squab, i.e. pigeon "tartare",  shown here, and another featuring raw Chianina beef.  Chianina being Italy's version of the Japanese Wagyu.  I realize many discriminating diners love tartare of any kind,  but as to pigeons  I draw the line realizing, cooked or not,  pigeon is a major popular delicacy throughout the region of Umbria.  The lone cherry tomato really dresses up the plate,  don't you think? (Photo by Gary Novotny)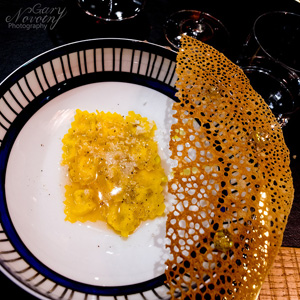 All chefs were fearless in working with ingredient combinations that no Italian-inspired home chef in his or her right mind would ever consider.  e.g. "Carbonara" ravioli with peach sauce here on the left.  One could overlook the egregious insult to the world famous Spaghetti Carbonara from Rome if it tasted great.  It didn't.  The overcooked parmesan crispy on the side  vainly tried to distract me from the outrage in the center of the plate but no luck even though it sported tiny droplets of basil olive oil gelee'.  (Photo by Gary Novotny)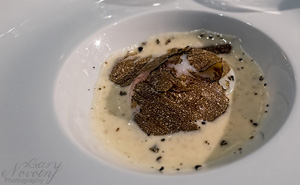 All chefs displayed a talent for dressing up the mundane with such visual legerdemain as to fool the diner into thinking some masterpiece lay hidden on the plate.  Here we have run-of-the-mill  (and barely cooked) poached egg drowned in  pecorino cheese "fondue" and buried  under a canopy of sliced black truffle. This was served up at dinner at the hotel restaurant in Assisi on Day 3,  not a Michelin star venue but definitely a wannabe.  See the egg anywhere? (photo by Gary Novotny)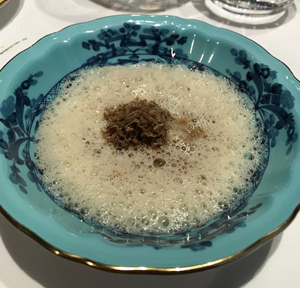 Another way to elevate the mundane is by the use of foam.  Foam cooking has become hugely popular.  It can fancify ordinary things like mashed potatoes,  cheese sauces,  any pureed ingredient and beyond.  For all I know it is a staple of Michelin-style cookery along with nitrogen baths and "sous vide" techniques.  A great showboat tactic you see here but you need to be prepared to chow down on bubbles and thin air in the process.
A word about adherence to "local" cuisine.  Except in subtle ways  the starred restaurants' adherence to traditional local cuisine is, by design,  strictly nominal.  After all,  the chefs strive to be original,  distinctive and non-repetitive.  So it's a bit disingenuous for the Italian Michelin winners to claim fidelity to the local authentic cuisine.  In the Michelin star world any claimed connection to Grandma's classic cooking  is strictly mythical.
I think by now I've covered the crime scene sufficiently,  except to admit that my reactions were shared only by a small minority of fellow travelers.  I'm not deterred by that since I said from the start I have not had much exposure to this form of cooking.  I am hiding behind the  rubric of "first impression".  So if I were to do another trip of this kind (highly doubtful) I intend to bring along some retired Michelin judges and subject them to a withering cross examination at every meal they think is star quality.
On The Positive Side
While I had my difficulties appreciating the exaltation of the dining experience via the Michelin star gateway there were a number of instances wherein I could take on  simple classic  flavors from  some of the dishes we were served from time to time.  Something like pausing for a taste of fundamental local cooking for a sanity check .
Naming names these four locations on the tour stood out in particular: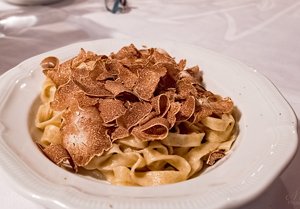 Trattoria Amerigo dal 1934:  If you can find this Michelin-starred  place on a Google map and pay somebody to drive you there while sedated and blindfolded (the roads are treacherous) Amerigo dal 1934 is without doubt worth the effort.  Here in the town of Savigno lies a humbly furnished culinary outpost frozen in time that spreads joy in the form of pasta with truffles.  Any added commentary would be superfluous.  (Photo by Gary Novotny)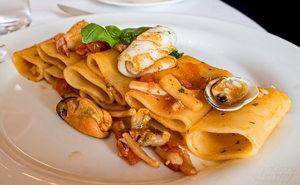 Grand Hotel Vistamare – Although not a Michelin-starred location this elegant hotel/restaurant by the sea would have three stars if I were the judge.  Located in Santa Margherita Ligure near Genoa on the Costa Azzurra,  the Italian equivalent of the French Riviera,  the kitchen in this place turns out authentic local seafood dishes that are a monument to the Genovese tradition,  with outstanding wine pairings to boot!  I claim some  authority since I have dined in this neighborhood a few times times before.  The paccheri pasta with seafood sauce shown here was indescribable. (Photo by Gary Novotny)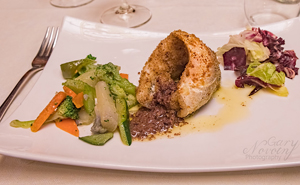 Osteria del Tempo Perso – Leaving aside the strange name of this non-Michelin  restaurant in the town of Ravenna, (Tempo Perso = Time Lost) we were served a seafood lunch that actually blended artwork and great taste.  Think about an appetizer of shrimp wrapped in a cocoon of shredded phyllo dough and a main course fish filet twisted in a clever stand-up display. This establishment excelled in all the many ways to cook one of Italy's most popular fish – branzino,  also called sea bass even though it isn't.  So,  if you ever pass through Ravenna you know where to go.  (Photo by Gary Novotny)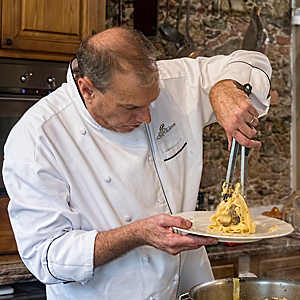 Villa Valentina – we finished the tour with an extended stay at Villa Valentina – a restored renaissance property located in the hills of Tuscany near the town of Lucca.  On board as chief cook and bottle washer is  David Verzello,  a well known chef from  California.  Chef David served up the only dish that in fact knocked my socks off – hand made spaghetti "al nero di sepia" which means pasta turned black by the addition of squid ink,  and served in a broth containing a variety of seafood delicacies.   Not an easy dish to make.   (Photo by Gary Novotny)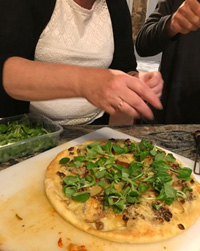 The other notable offerings at the Villa,  whenever we were allowed to take over David's kitchen,  consisted of scratch pizzas hand made by members of our group.
The sojourn at the villa was a novel experience.  However the best advice is to think twice before signing on to to a tour than puts you up in some "restored" medieval or renaissance villa.  The European concept of luxury accomodations is light years away from most American expectations.  'Nuff said.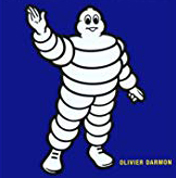 All of which leads to my long awaited, and hastily assembled closing remarks:
First,  I repeat that I admire the skill necessary to create  elaborate star quality dishes.  These chefs are the kitchen equivalent of rocket scientists.  Yet  I agree (tentatively) with some writers that the Michelin game is highly exaggerated and in many respects somewhat deceiving.
Second,  I am convinced that one does not patronize a starred establishment to satisfy hunger cravings.  One goes to be entertained if one is in the mood for some culinary pyrotechnics.  You can be forgiven if after the experience you want to head straight for the Cactus Cantina around the corner.
Third,  this is not to say I wouldn't travel again to see whether my Michelin star outlook can change, unlikely as that might be.  But as time goes on  I fully expect my reactions to morph in one direction or another.  I might consider a confirmation exercise to see if a different impression emerges.  
So, I just reached into my library for my dust-covered Michelin Guide.