I thought I had a winner. Had I won it would have been two years in a row because last year's entry, my lasagne bolognese, was the champ.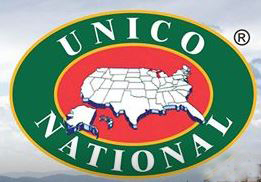 I'm talking about a pasta recipe contest sponsored by the Delaware chapter of a national Italian-American service organization called UNICO. And you would be correct, members are called "unicans".
This time I entered the item featured below with total confidence of its success. Purple potato gnocchi with a four-cheese sauce, known in Italy as gnocchi alla fonduta. The word "fonduta" means fondue, and reflects the four-cheese blend one might find in Swiss fondue recipes.
Having "discovered" purple potatoes at my local Harris Teeter I thought the idea was one I could claim as an original. As it turned out this dish – purple potatoes and all – appears on any number of Italian web sites as if it had been part of the repertory for generations. So much for originality.
The most crushing blow however was to have been beaten out by a contestant who reached into the most obscure corners of Italian cookery to come up with a dish called Pasta alla Norcina. This pasta variation hails from Norcia, a small town in Umbria, of all places, rather than Tuscany, Naples, Bologna or any of the other world famous Italian centers of culinary excellence. The sauce is made with ground sausage with flavoring similar to America's favorite pizza topping "pepperoni," so no wonder it got the most votes.
To add insult to injury the recipe was prepared with store-bought commercial pasta, not home made.
Nevertheless I have faith in my purple potato gnocchi if only because purple potatoes claim health benefits not shared by other members of the root vegetable family. So if you prefer pasta alla norcina – assuming you ever heard of it – go ahead, Google the recipe and make it yourself.
Meantime try this version of gnocchi and see if you don't agree that it should have taken first place!
Purple Potato Gnocchi
For 4 persons as a main, 6 as an appetizer course
2 cups plus 3 tbsp. all purpose or "OO" flour
2 lbs. purple potatoes peeled (purple potatoes are rather small and peeling them is a pain)
1/2 cup pureed cooked beets (for deeper color)
2 1/2 cups warm milk or more as needed
3/4 cup each grated imported parmesan cheese, romano, fontina and sharp provolone (or crumbled gorgonzola, but not as much)
3 tbsp. butter
grated nutmeg to taste
salt & pepper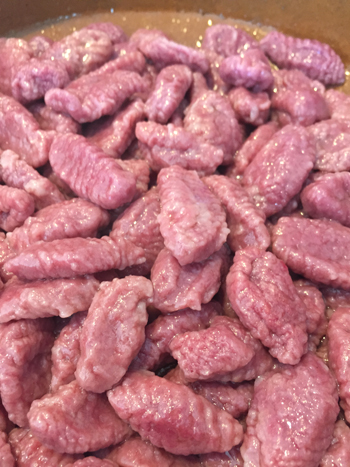 Preparation:
For the gnocchi: Place peeled potatoes in a pot of cold water. With burner set on high heat cook potatoes until a fork or skewer pierces through smoothly, around 12-15 minutes after reaching boiling point. Better to overcook than undercook.
When potatoes are done pass them through a ricer into a large bowl. Once cooled down to room temperature add the flour and the beets. Blend thoroughly and pour onto a generously floured pastry board. Knead in additional flour to achieve a relatively soft and somewhat sticky dough.
With floured hands break off a baseball-size lump of dough and roll into a log shape about 1/2 inch thick. Cut the log into 1 inch pieces taking care to dust with flour and keep pieces from touching one another. At this point you can set the gnocchi on a cookie sheet dusted with corn meal or semolina and place them in the freezer once again making sure they stay separated. Once they're frozen you can stash them in a zip lock bag.
Or you can get fancy and use a gnocchi board or the tines of a fork to create a ribbed shape. Whichever you choose immediately freezing the gnocchi makes it easier to store them until you are ready for cooking.
For the sauce: Melt the butter in a sauce pan then slowly add the milk, stirring constantly. Add the cheeses slowly stirring all the while to avoid clumps. Add the nutmeg, salt & pepper (if needed) and stir until the sauce thickens. Thickness can be adjusted by adding more cheese or more milk but it's best to keep the sauce rather loose since it will thicken up just hanging around waiting for you to finish up.
To make the final dish simply boil the frozen gnocchi in 4 quarts of rapidly boiling salted water for around 4 minutes or until just past the "al dente" stage. After draining sprinkle with olive oil to avoid sticking. As for the sauce, better to serve it tableside because it will turn everything into a gooey mess if mixed immediately with the gnocchi.