To demonstrate my unlimited capacity to nitpick any topic I recently conducted a review of an issue that addresses origins and authenticity in cooking.  The question on my mind is, what exactly constitutes original and authentic Ragu alla Bologese,  the world reknown meat sauce from Bologna,  Italy that transforms any pasta you choose to serve?
It's a consequential issue because the story is that back in 1982 the Italian Academy of Cuisine placed on record at the Bologna Chamber of Commerce what it considered to be the correct recipe for rendering this rich and delectable condiment.  Which means that,  believe it or not,  there is such a thing as a macaroni sauce with a sort of "DOP" authentication attached to it.  Denominazione di Origine Protetta essentially means that unless you follow the recipe on record you are not making the real thing so you better not call it Ragu' alla Bolognese otherwise in Bologna you could be subject to arrest.
The research began with a journey over to Google .it,  search term "ragu all bolognese",  whereupon one discovers hundres of links most of which claim to lead you to the authentic recipe.  However try as I might I could not locate the official document on file at the Chamber.  Maybe it's only available in hard copy.
Needless to say the sites that claim to reproduce the real McCoy vary all over the place.  I wandered around the entries looking for the common ground among them but to no avail.  Some call for two kinds of meat, some three, some call for red wine some white and so on.  What seems to me to be the most accurate recipe is at www. gennarino.org/ragu.htm.  Also I found two other sources that I feel are telling me like it is, almost.  The first is the recipe found in the magazine Cucina Italiana, (n.13, Sept./Oct. 2009, p.64) where the only dubious ingredient is two ounces of sweet sausage "casings removed."  The second is the one recorded in the magazine Saveur, (April, 2008, p. 51).  whose only apparent defect is the inclusion of both milk and heavy cream.  The Italian source specifies milk only.  As for the key meat ingredient the Saveur is the only one I found that calls for ground skirt steak,  exactly the same as in the Italian site.  Neither Saveur nor the Italian site call for the trio of ground beef, pork and veal found in hundreds of other recipes that claim to be authentic, including the U.S. version of Cucina Italiana noted above.  (The magazine is published in both countries, but the content is not the same).
And so here is the star of the show dressing up a plated of bucatini (thick spaghetti) and served to me at the eponymous restaurant Dal Bolognese in Rome:
Ragu alla Bolognese
four 4 servings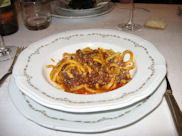 1 lb. ground skirt steak  (guess what, 70/30 ground beef will do just fine)
1/2 cup finely chopped pancetta
1 cup red wine (white works also, but I prefer red)
1 cup beef broth
1 small can tomato paste
1 medium onion,  1 carrot,  1 celery rib all finely chopped
1/2 cup milk or 1/4 cup heavy cream,  but not both
Lightly oil a saute pan.  (The folks in Bologna will most likely use butter, or butter and oil combo).  Sprinkle with salt and cook at medium heat until fully softened, you don't want crunchy veggies in your sauce.  Add the beef and cook further until it starts to caramelize slightly.  The meat will release water, which should be sopped up with a paper towel from time to time.  Add the wine, stir and reduce until almost evaporated.  Add the tomato paste and beef broth.  Cook at low heat for 2 hours stirring occasionally.  Add water or more broth if necessary to maintain a slightly thick consistency.  Check for salt and pepper.  Continue reducing the sauce and then reconstituting with water or broth for at least two cycles.  This is the step that tenderizes the meat so that it doesn't feel like ground up hamburger to the palate.
As for the milk, which goes in at the end, adding it will soften the color of the sauce and impart a slightly silky quality to it.  And as a final note, the Italian site referenced above, which claims to be quoting from the original Academy document, calls for the milk.  The Wikipedia entry, which also claims to be quoting from the original, omits any reference to milk or cream.  So the mystery lives on.
One final quibble – don't go away yet:  I note that Mario Batali's outstanding volume Molto Italiano (Harper Collins, New York 2005) displays on page 245 Mario's take on the original recipe.  Mario adds a few extra features with which I have no quarrel,  except for one – thyme.  I couldn't find any Italian references that call for it and it certainly does not appear in the Academy version, no matter who is quoting it.  The usual spices, basil, oregano parsley etc. are conspicuous by their absence.  Thyme,  a rather intensely flavored spice among all the choices,  has no place in a Bolognese recipe so I strongly recommend leaving it behind.
You now are entitled to a Ph.D. in Salsa alla Bolognese.  The Academy will be glad to send you the paperwork.