One day recently I nearly lapsed into a catatonic state watching the Food Network's "Pioneer Woman" whip up a hearty batch of steak n' eggs for all the buckaroos on the ranch.  Before passing out I had a straight off the wall idea flash before me.  I imagined that I would become the world's leading expert on the connections between French and Italian cuisine.
All I needed was a place to start.  I thought and thought.  I figured I would begin with the complex and move on to the simple. For the first installment I decided a most convenient example of the introduction of Italian influence into French cooking might be the famous Bouillabaise and accordingly a rendering of the similarities between that dish and the Italian Zuppa di Pesce appears elsewhere on these pages if you can find it.
A simpler example is Ratatouille,  a French vegetable composition tracing back, via twists and turns,  to the Sicilian  Caponata di Melanzana.  The French will deny this of course.
Fasten seat belts and read on.  This is going to take a while.
The eggplant, which is the star of the show,  found its way from the Far East to North Africa and inevitably to Sicily,  an island ruled at various times by ancient Greeks, Romans,  Phoenicians and later on the Arabs,  Spanish, Normans and assorted others.  Over time the diversity of occupiers learned to elaborate on ways to serve up this most prolific vegetable (or is it a fruit??)  The likely originators were the Arab Sicilians and their successors.  Over time they produced a dish that achieved wide circulation throughout the Mediterranean.
Oddly enough the name "caponata" actually comes from Spain,  one of the many invading countries that helped themselves to Sicilian hospitality over the years.  The name is also generic in the sense that there are many varieties of caponata, not just those based on eggplant.
As it grew in popularity many cultures began to vary the ingredients but always retaining the main event,  which is the eggplant.  Today just about every country on the continent of Europe,  in Africa and the Middle East claims a variation of this eggplant-based vegetable dish.  That makes it difficult to be precise about a direct connection between ratatouille and caponata.  
Caponata di Melanzana is somewhat more complex but strictly eggplant-based,  with only a few other vegetables joining the party as flavor enhancers.  Ratatouille is populated with eggplant and other different ingredients from the garden,  as are the multiple variations that grew up simultaneously in mainland Italy,  forming an identical dish commonly called Ciambotta – essentially a vegetable casserole that includes eggplant.
For today's cooking exercise I came up with this brilliant idea: why not set up a recipe that begins with the typical and traditional eggplant caponata ingredients but adds other features that render a cross between it and the famous ratatouille.  The caponata includes a dose of vinegar as well as raisins, capers, olives and pine nuts,  none of which are found in ratatouille.  Ratatouille calls for two other vegetables not found in Caponata,  namely bell peppers and "courgettes" or zucchini.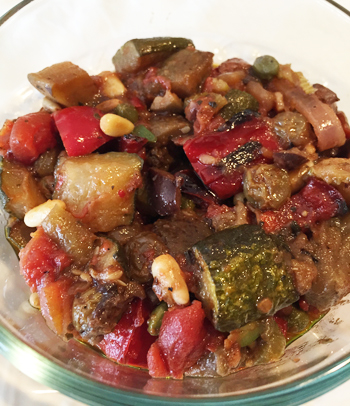 So in this recipe we have items that are common to both dishes and others that are not.  I think this minor brainchild truly deserves its own name.  I'm calling it "caponatouille" .
I've separated out the common ingredients along with those that belong to the Sicilians and those that were slapped on by the French. Ingredients are drawn from two websites,  French and Italian and so you know I'm not making this up.
Also I studiously ignore two constant features of the French and Italian recipes.  First,  I remove the eggplant skin whereas the Europeans don't, and second I do not perform the utterly worthless ritual of trying to remove the so-called bitter juices from the eggplant with a salt dredge.
OK, so here it is:
Caponata/Ratatouille
or "Caponatouille" 
For 5 servings as an appetizer
Common ingredients:

1 large purple eggplant
1 large onion coarsely chopped
3 or 4 garlic cloves thinly sliced lengthwise
4 ripe tomatoes parboiled to remove skins
olive oil
1 tablespoon sugar
salt & pepper to taste

Sicilian ingredients

2 celery stalks, green part only
2 tablespoons rinsed capers
1/2 cup green olives (or Kalamata) pitted and sliced in half lengthwise
2 tablespoons pinoli nuts
2 or 3 tablespoons golden raisins
1/2 cup vinegar – not balsamic (I prefer white wine vinegar)
julienne of fresh basil leaves for garnish

French ingredients:

2 large or 3 small peppers,  red or green (the red ones give the dish a splash of color)
6 0r 7 little "courgettes" or two regular zucchini
1 fresh bay leaf
So now the fun begins.  Most all the recipes call for cooking the vegetables separately and this is definitely the way to go.  Otherwise you risk overcooking some and undercooking others.  Gather up the saute' pans and grab a glass of good Sicilian Nero D'Avola.
Dice the eggplant, celery, onions, garlic,  tomatoes,  peppers and zucchini into 1/2 inch cubes.  Saute' each separately (or sequentially in the same pan to save cleanup) in olive oil, salt and pepper until well softened.  Toss together in a bowl and set aside.  
Heat the pine nuts in a small pan until slightly browned.  Add to the vegetables.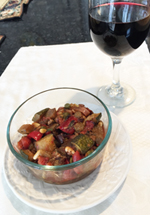 Return all ingredients to the pan on low heat to keep warm.  Add the capers,  chopped olives,  fresh bay leaf, raisins,  vinegar and sugar.  Gently stir until all is well combined. Let stand for a few minutes before serving.  This can be served warm or cold, or even as a topping for bruschetta appetizers.
Pour second glass of Nero D'Avola because you're done.