This past week I was on travel for the umpteenth time in Rome. On this particular occasion I was there under the pretext of searching out a cooking program at the many culinary instructional facilities in operation throughout the country. While I spent a fair amount of time in search mode, as always I was secretly driven by the chance for yet another exposure to Italy's finest cuisine.
In the course of the visit I managed to check out a culinary institution with the most improbable name of Gambero Rosso (Italian for Red Shrimp). This place is a mélange of activity that includes a pretty well regarded cooking school, a rooftop restaurant and venue for all sorts of wine festivals, cultural and political events. It is somewhat surprising since the place is located in the most inaccessible part of town one can imagine. Not only that it looks like it was designed by Franz Kafka in a drunken stupor. Somehow the architect succeeded in taking the concept of external fire escapes to a whole new level!
Despite the building's glaring architectural insult the Gambero Rosso rooftop restaurant was a most pleasant experience. Inside, it's overall appearance and design suggests the work of an interior decorator with a gift for harmony and relaxing ambiance, definitely not the same guy as the building designer. If you have the time and money for a long cab ride, I recommend you put it on the list for your next trip to Rome (which will be soon I hope, after all it's the place to be!
Anyway this is a view of the spacious restaurant and a portion of the huge wall-to-wall wine collection:
After a discussion with the maitre d' about the facility and a quick tour,  I sat down to try out some items from the menu.  It changes daily and consists of selections created and prepared by the school's top students.
I spotted an item that sounded like a dish I make for myself from time to time whose chief ingredients are spaghetti, tuna fish, red onion and a sprinkling of breadcrumbs.  The waiter informed me that this particular menu selection was the work of a Sicilian student.  As a tribute to his talent the menu description was written in Sicilian dialect (which everyone knows is a blend of Sanskrit and Arabic) which I could barely make out.
My appetizer was a trio of cured and baked ham hand-sliced by gentleman in the photo.  The three varieties were aged prosciutto from Umbria,  traditional baked ham (prosciutto cotto) with herbs and Serrano ham from Spain.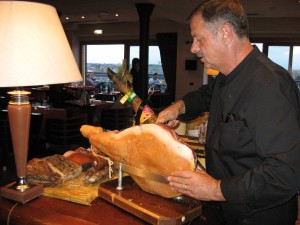 I was pleased to have a chance to match up Spain's best known cured ham with "high-end" Italian prosciutto.  My impressions will be recorded elsewhere when I get around to dealing with "salumi" as a topic (i.e. cured meats). Suffice it to say for the moment,  hand slicing is a hit and miss affair.  In this particular case I thought the slices came out a little too thick for my taste.
Turning to the main event (spaghetti with tuna and onion), I can only say that this version outstripped anything I had concocted at home over the years.  Once again I was reminded of the miracles that can occur with the simplest ingredients.  The dish was a five-star production and one that I am unlikely to forget any time soon!
Since the dish's creator had left for the day I had to rely on the waiter for a second-hand account of the recipe and process by which the remarkable result was achieved.  I road tested it when I got back home and can testify under oath that the outcome was as advertised and tantamount to a religious experience.
Spaghetti with Tuna and Onion
(For 4 persons)
1 lb. spaghetti
1 7 oz can of imported tuna packed in oil
1/2 medium red onion thinly sliced and coarsely chopped
1/2 cup of plain bread crumbs
1/2 cup of extra virgin olive oil
Freshly ground black pepper
1/4 cup chopped fresh Italian parsley
Salt to taste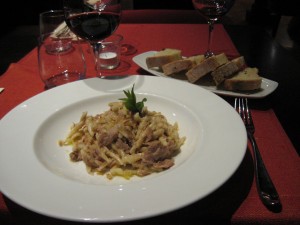 Drain tuna. You will be replacing the oil from the can with extra virgin. In a bowl mash the tuna and half the extra virgin olive oil until fully mixed with no chunks remaining. With the remaining portion of olive oil heat onions in a large sauté pan until softened (about 5 minutes). Add the tuna and cook for another 5 or 6 minutes. Add breadcrumbs and black pepper, mixing thoroughly. Cover and keep warm over low heat. Cook spaghetti in 5 quarts of water with one heaping tablespoon of salt (following package directions). Drain spaghetti, reserving a cup of cooking water, add to sauté pan, mix thoroughly and sprinkle with parsley. Add cooking water sparingly if the mixture seems to dry. Serve immediately, for this dish waits for no one.
A couple of observations: (1) needless to say the breadcrumbs used at the restaurant  did not come from a blue can; (2)  if you dare use tuna packed in water the Gambero Rosso's video surveillance team will know it and the  management will send you a nasty letter!  Tuna packed in water has no taste whatsover and needs to be banned from the marketplace.
So give this a try.  It's a sure-fire crowd pleaser.